Jeff Weissler will only make you love wine more!  After visiting his shop, you will know that wine is the key ingredient to any meal that brings it to life. Pairings Portland Wine Shop is, as Jeff explains, in a way like a looking glass into the wine world, showing how pairing wines with food enhances the dining experience.  It provides an opportunity to celebrate the individual and the collective, and how they work together to create a rich community.
The School of  Wine:  When you walk into Pairings you notice first off this is not your typical wine bar or wine shop.  First, there's the wall-sized chalk board.  The chalk board is your guide to choosing your wine based on what you're eating.  For example, if it's going to be salty fare, the wall explains the type of wine that pairs well and offers up a few suggestions. The shelves of wine for sale are organized not by region or by variety, but by what foods they pair with, such as salty, fatty, sweet, or even your mood.
Stay for Awhile:  Then there's the ambiance. It's light, comfortable and cheery, with a few tables and chairs for relaxing while you savor your wine. Of course, there's a bar for tasting wine and some light snacks available for purchase.  Jeff also encourages you to bring in your own take-out, and he'll help you select the perfect wine to enjoy with it.  It's a cozy place to gather with friends to relax and take the time to enjoy good company and let the wine tell its story.
The Tale of Wine:  Jeff explains that wine is alive with flavors that develop and mature over time. Not unlike a good story that builds by each chapter, the magic of wine unfolds as it is paired with food and breathes air. It takes time to completely experience the magic of each wine, and different flavors appear depending on the food it is paired with.  Of course, there is also individual taste.
The Ultimate Wine Guy:  Finally, there's Jeff, who completes the Pairings experience.  It's obvious Pairings is also a large part of what makes Jeff tick. Pairings is his most recent venture in a long journey in the wine business. Jeff has spent the last 30 years getting to know, selling, and loving wine. Originally from New York, where he owned and operated Suburban Wine & Spirits in Westchester, wine is in Jeff's DNA.  From the minute you first speak to Jeff, you sense talking wine is as natural as speaking English, and his enthusiasm is contagious.  I found myself wanting to open a bottle and taste it with some salt, sugar and fat.
Conscious Wine :  Frustrated with the lack of a good standard to vet the quality of organic wine, Jeff created Conscious Wine (www.consciouswine.com).  Conscious Wine is premised on four principles to reshape the concept of organic wines, and how each wine stacks up against these principles. These principles are:
Are the grapes organically grown?
Does the vineyard practice sustainable farming?
Is a vital living soil and environment supported that leads to vital living products?
Does it taste great?
Jeff has vetted at least 50 wines according to this standard, and approximately 80% of the wines in Pairings Portland meet this standard.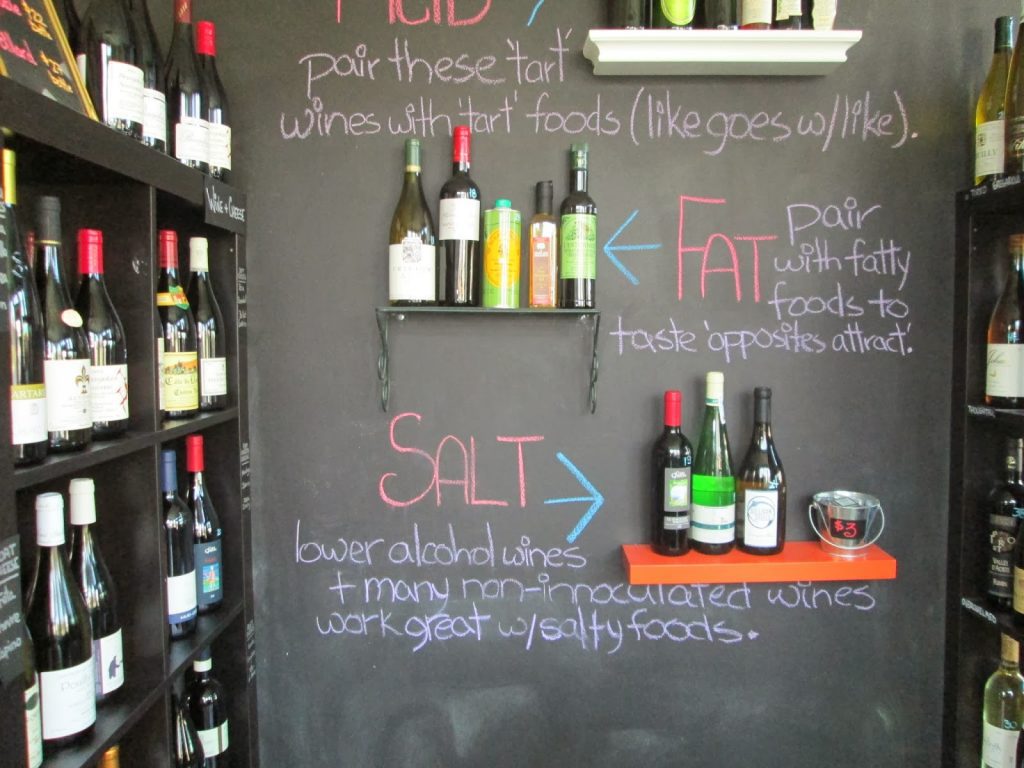 Have Fun!:  Jeff also offers a variety of classes and fun events at Pairings.  For example, there's the Pairings Basic Class, where you will learn how foods and flavor will alter the experience of wine.  (Read a review of this class pairings-portland-a-wine-shop-with-a-purpose).
There's also a monthly potluck group.  At each potluck the group selects three letters, and the next month you must bring a dish with ingredients that start with those letters.  Jeff supplies the wine to go with the feast.
Jeff is always cooking up more fun events, such as Friday night tastings with a wine maker and trivia nights, and the calendar is posted on the window of his shop or at his website here.
Pairings is definitely a place to check out. It will introduce you to a knew way of choosing and drinking wine, and you will definitely enjoy yourself.  I'm also sure Jeff would love to meet you! Pairings Portland is located at 455 NE 24th Avenue, at the corner of NE Glisan and 24th.  Winter hours are Wednesday to Friday, 2 – 8 p.m., and Saturday/Sunday 12 – 8 p.m.