Melissa Berry is on a mission. She creates delicious, gourmet vegan chocolates that are certified dairy, gluten and nut free.  Melissa's vision is to not only create the best chocolates in town, but to also use the proceeds earned from Missionary Chocolates to fund a natural integrated inpatient medical center in Portland.  I know she is at least half-way there.  Her chocolates are some of the best I've ever eaten.
Chocolate Runs Deep:  Chocolate is in her blood. Melissa comes from a family deeply connected to chocolate. Melissa's grandmother knew Mary Sees, and yes, she's the Mary Sees of See's Chocolates. Needless to say, Melissa grew up with chocolate, and made fudge as a kid. Melissa's mother, a life long vegan, also loves chocolate. But finding good, vegan chocolate was difficult.
The Mission:  When Melissa's mother became seriously ill, Melissa wanted to cheer her up. Melissa had purchased her mother some fancy vegan chocolates. But, not being satisfied with the taste and texture of the chocolates she purchased, Melissa decided to make her own chocolates for Christmas gifts and for her mother. As Melissa tells it, she "was on a mission to make her mother happy."  Soon she was running a business named Missionary Chocolates.
Chocolates Galore: Melissa was nearing the end of medical school when she made that first batch of chocolates. By February, she was taking orders for chocolates. In June, she graduated from medical school, and in September, Missionary Chocolates won its first award:  People's No. 1 Choice in the NW Chocolate Festival in 2007. Since then, Missionary Chocolates has grown in true grassroots fashion.
The Recipes:  Melissa develops her own recipes. She started with a recipe from a library book and modified it to be dairy free and vegan, and a chocolate that everyone could and would want to eat. She makes her chocolate with coconut milk, having loved coconut since she was a kid. She flavors the chocolate with organic and natural fruit flavors, and makes her own caramel. She uses coconut palm sugar to sweeten some of her truffles to keep the glycemic index lower.
I Love Lucy:  We can't forget Lucy, the chocolate machine that energizes Missionary Chocolates. Melissa searched all across the country to acquire this chocolate making machine, and it has helped Melissa streamline and increase her production.  Melissa named her Lucy after the similar machine made famous in the "I Love Lucy."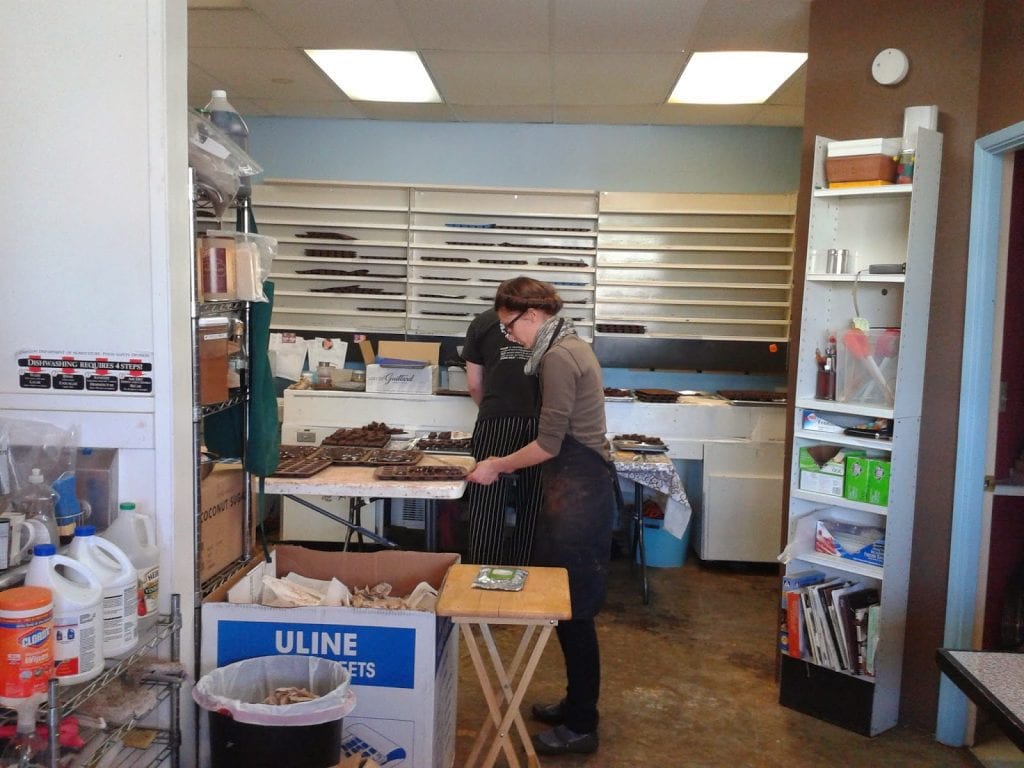 Everybody's Chocolates: Because Melissa wants to make a chocolate everyone can eat, she also wants to make a chocolate everyone can afford.  She has not raised the prices of her chocolates, so the increased production volume Lucy made possible has allowed Melissa to keep up with the rising costs of the quality ingredients she uses.
Melissa also welcomes ideas for new flavors of truffles from her customers. While we were chatting, a customer came in, and she and Melissa discussed the idea for a pepper flavored chocolate.  In fact, Melissa seemed to be on a first-name basis with most of the customers who stopped by.
For Better Health:  As Melissa was growing Missionary Chocolates, she was also graduating from medical school and looking for a way to practice naturopathic medicine.  She took a job out of medical school at a chiropractic clinic, but that was not the type of practice Melissa yearned for. Ideally, Melissa would like to practice naturopathic medicine with the critically ill at an inpatient facility, providing the patients the care when they need it the most.  Unfortunately, few such clinics exist.
The Mission, Part 2:  Motivated to action by her mother's critical illness and long path to diagnosis and recovery, and by her desire to treat and heal the critically ill, Melissa's dream is to establish and fund an integrative natural health care clinic in Portland. She wants to fill a gap in the health care delivery system. Missionary Chocolates is the vehicle she hopes will get her there.  She wants to ultimately turn Missionary Chocolates into a nonprofit to fund the clinic.
Mission Possible:  Running Missionary Chocolates is a full-time job. Melissa has two people on staff, with the most recent addition a graduate from culinary school.  They are more than a team, and more like family. Melissa says she has grown by facing the challenges of running a business with a perishable inventory. Melissa is committed to her mission, and I know she will succeed.
Visit Missionary Chocolates:  You should really stop by her shop. You'll probably get to taste some of the chocolates if you do.  They are located at 2712 NE Glisan Street in Portland. You can also find Missionary Chocolates at a few retail outlets which are listed here. Also, look for them at Portland Pairings Wine Shop.
Finally, you can find Missionary Chocolates on the web at www.missionarychocolates.com.