Niels Madsen is an artist at heart. He creates one of a kind handcrafted wood products, hand turning each creation from carefully selected rare and exotic woods. MadWood Turnery offers masterfully created plates, bowls and kitchen tools, all of them pieces of art.  Believing in form, function and beauty, nothing is made to be thrown away, but crafted to be useful while also cherished for the craftsmanship and artistry they reflect.
Discovery:  Niels discovered wood turning not quite by accident, but also not quite by design.  On a trip to Scandinavia to visit family in Denmark and Norway, Niels spent time with his uncle, who is a masterful wood turner. Niels was drawn to the art form. Niels had been a professional carpenter and his father was a hobbyist wood turner, so it just seems natural that Niels would discover wood turning as if by chance.
The Rise of MadWood:  When Niels returned from his trip, he bought the tools and wood, and started playing around with wood turning.  His wife, Allison, quickly recognized Niels' natural talent and encouraged him to turn wood turning into a business.  With Allison as his business manager, Madwood Turnery went from a part-time hobby to full time business in approximately 3 years.
Turning as Art:  But, it's much more than a business to Niels. Every piece Niels creates is the result of a creative process.  It all starts with a block of wood.  Niels starts turning without a specific plan in mind, sometimes just circling his studio and home until inspiration hits.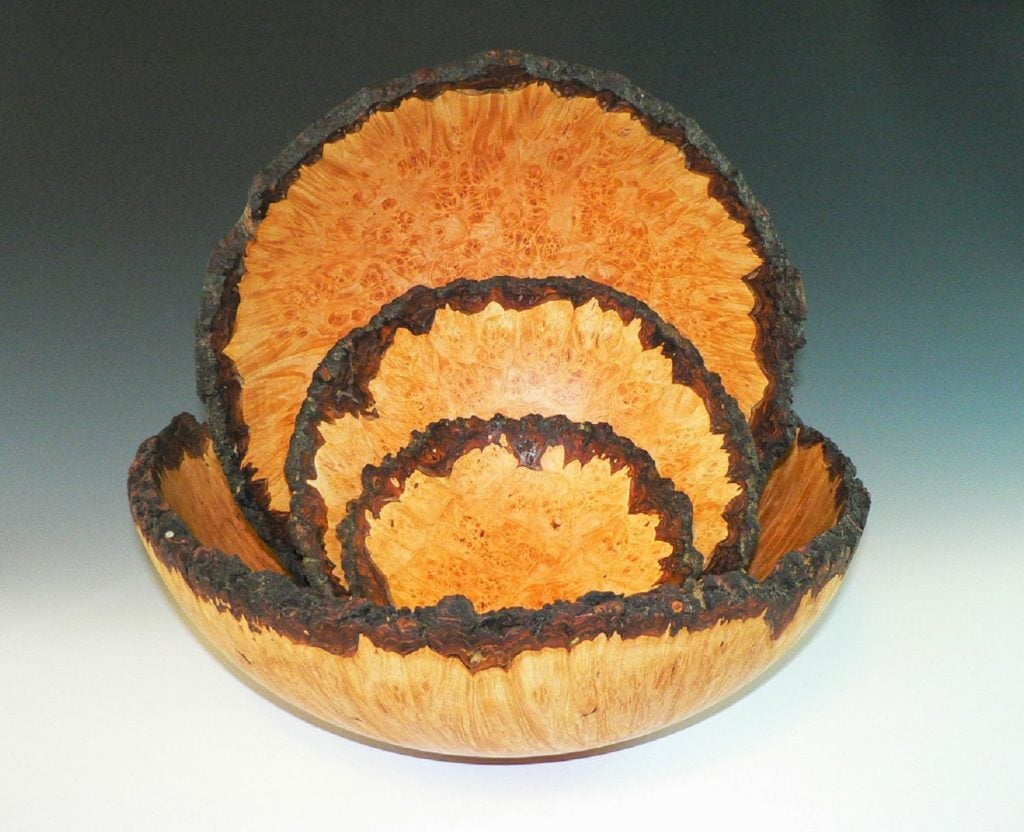 It's About the Wood:  He says the wood tells you what you can do. The wood is alive, and the grain is key. Niels creates each piece to reflect the beauty inherent in each block of wood he works with. In other words, Niels isn't just creating bowls, utensils, pens, and ornaments, he is creating art.
The Show Team:  Niels sells his work mostly at art shows.  Niels and Allison attend 9 – 10 shows per year, with each show requiring lots of prep time and inventory to take along.  It seems almost a herculean effort, packing the art, display cases, etc, to get his collection to a show for proper showing.  Then, there's the pricing for the unique items, and Niels jokes they employ the "Allison Method" of pricing (but I won't reveal the secret). The two make a remarkable team.
The 3 Buyers:  Niels and Allison comment on the challenges of selling Niels' art at these shows.  They note three types of buyers who stop by:  1.  The "Wowers," who have never seen anything like Niels' work;  2. The "Experts" who are very knowledgeable about wood turning; and, 3. The "Bargain Hunters", who are looking for inexpensive knock-offs.  Apparently, they are impressing plenty, because there have been shows when they've just about run out of inventory and Niels is then working hard to replenish the collection prior to the next show!
Beauty and Function:  Another challenge for Niels is the custom order.  Everyone's taste is so different, and Niels is a perfectionist and his own worst critic, wanting every piece fine tuned to the best of his ability. All the pieces I saw were remarkably beautiful in function and to the eye.  There was the ice cream scoop with the gorgeous wooden handle that had such a balanced weight I just knew it would cut through ice cream like butter.  The beautiful bowls and ornaments and razors.
Wow!  As I sat there chatting with Niels and Allison, they kept bringing from hiding many items from their collection, each meticulously and beautifully crafted. Count me as Buyer Type 1 – completely wowed by what I saw.  They also offer a warranty.  If any of the hardware fails on a utensil, just send it back and they will fix it.
Team Madsen: Niels and Allison also share a love for the sea.  They grew up in Astoria and even dated in high school. After previous marriages, they reunited in 1995. They enjoy spending time together clam digging and searching for shells on the beach.  It was a treat to sit down and speak with both of them and feel their warmth.
To learn more about MadWood Turnery and Niels' art, check out the website at www.madwoodturnery.com.  Or even better, go to one of their next shows.
You can find the schedule here:  http://www.madwoodturnery.com/#!events/c17h8.
Images source: Madwood Turnery