Erin Ridle and lil e creations offer amazingly creative and colorful costume wings and hats for all ages and all types of events. Erin hand makes and designs each of the costumes, either from her own inspiration or from specific requests from clients.  But, Erin's creativity extends beyond costumes.  

She also has an Etsy shop dedicated to weddings, and teaches classes on making sock monkeys and writing calligraphy. The latest venture is a blog, where she collects and shares pictures of hearts that she finds as she goes about her day. It's not surprising that Erin spots heart shapes so easily; that's just how she sees life.

Wings of Creativity:  Boy, does Lil e creations have costumes! Erin makes all types of wing/hat combos, ranging from birds to Pegasus to angels. She has also found a niche in making costumes for "Bronies," the adult fans of My Little Pony. Of course, the costumes aren't just for Halloween or "Bronie" conventions.  Erin stays busy creating costumes for plays and other orders through the rest of the year. 


Her wings are not made from wire, like many other costume wings, but stuffed and quilted. This way the wings are safe and do not lose their shape.  Erin gets ideas for the wings from a variety of sources. She watches cartoons, reads comics and uses her own imagination.   But mostly, people send in their own photos of what type of costume they want, and Erin creates a set of custom wings and hat.

Let's Play Dress Up:  Erin has always loved costumes and dressing up, even as an adult. She has a large collection of costumes herself, and there is a bedroom dedicated to housing her costumes at her parents home in Washington. It's Erin's costume inventory that fills up her home.

Chicken and Wings:  Erin retold the story of one of her first costumes she made.  It was a chicken hat for her mother 10 years ago. Her mother was going through cancer treatment and needed something to keep her head warm.  Erin also wanted to give her mother something that would make her laugh.  In fact, it was her mother who started calling her "Lil' E," as a child, so it seemed just natural to call her costume business "lil e creations."  
Flying on a Whim: Sometime in 2009, Erin decided on a whim to see if she could sell wings on Etsy.  She posted a few things, and then a customer requested monarch wings.  Then, someone requested another type of wing.  Soon, she was creating all types of hat/wing combos by request. I'm not too surprised she makes wings.  They kind of look like pairs of hearts.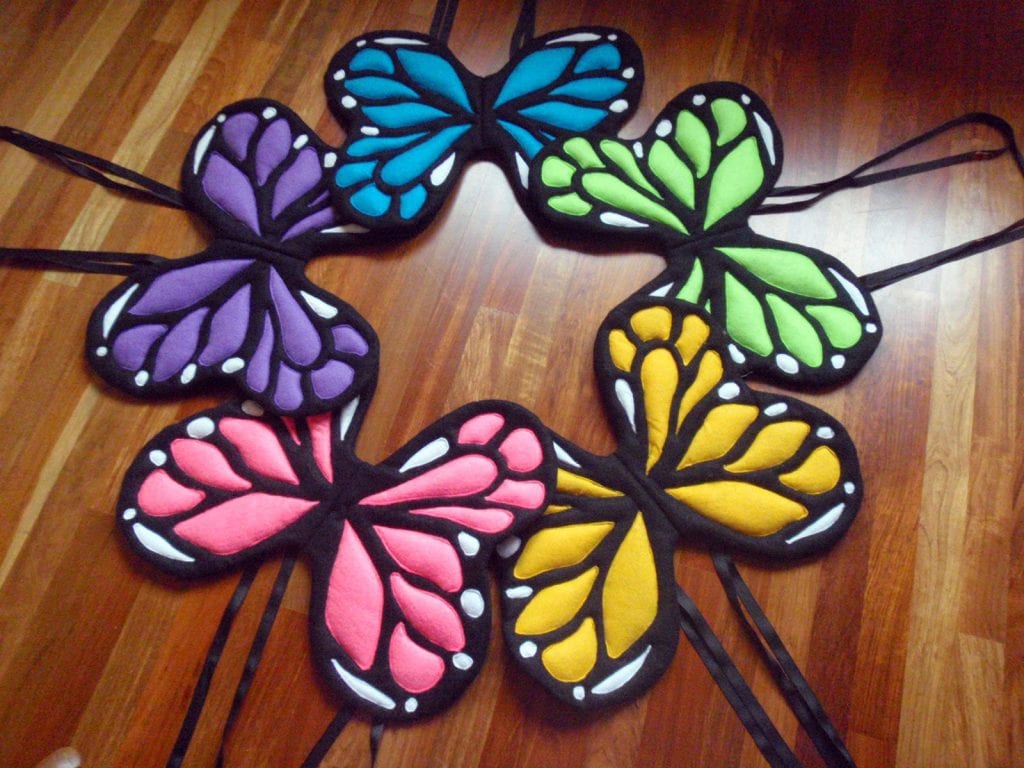 A River Runs Through Her:  Until 2011, Erin was still putting most of her energy into working as a rafting guide for the family business. She loved growing up in both the country and the city. Her family lived part-time in Idaho on the river and part-time in Seattle. Her parents sold the rafting business and now live on a family farm and homestead in Washington.  Erin still misses the country life and the river. 
Creative Imaginings:  Erin has always liked to create. She started teaching sock monkey classes while she was in college. She went to school at Evergreen, studying fiber arts, costumes and welding. She also likes to weave.  One of her latest creations is something called "Pocket Pix." Remember those Viewfinders from the 70's – the camera like toys with circular slide reels of places you visited?  Erin is now creating retro Viewfinders for weddings and other events.  
Your Daily Heart:  Another creation is 365hearts.com.  This is Erin's blog ,which is a collection of photos of heart-shaped objects just found in everyday life.  Erin invites you to post and share photos of hearts you find,  Erin then sends a heart a day to the blog's subscribers.  Erin also creates note cards with the images.  
Oh and Don't Forget: Erin also didn't want me to forget to mention that she takes Sundays off.  She calls them "shut-it-down Sundays."  She uses that time to rejuvenate by not turning on the computer, cooking, taking long walks and hanging out with her partner. 
Wise Heart:  Erin obviously uses the time to develop her own personal wisdom.  She notes that those of us who own our businesses rarely give ourselves enough time for ourselves. She is wise to set aside a day to "shut-it-down," and I believe it is a practice more of us should follow.  

Hearts of Joy:  Erin admits that she is somewhat whimsical and sees the world through rose colored glasses.  I would suggest instead she sees the world through heart-shaped glasses.  She finds joy just about everywhere, such as in nature, with her family, or curled up with a book.  I thoroughly enjoyed meeting Erin, and I felt truly welcomed and honored to be in her circle of heart-shaped joy.  


You can find all of Erin's creations at the following Etsy shops:

weddingfunbylile.etsy.com: Wedding Favors and Save-the-Dates

Follow Erin here:
facebook.com/lilecreations
twitter.com/lilecreations