Mike Barnett loves playing in the dirt and growing things.  What once started as a family homestead has now turned into Red Truck Homestead, an urban farm nestled in Park Rose of NE Portland. Red Truck Homestead raises all kinds of fruits and vegetables, as well as chickens and ducks.  It sells produce and eggs at local farmer's markets and to a few restaurants in town, and has now just started a CSA crop share.
The Little Farm in the City:  The farm is an amazing place, a hidden treasure in an urban setting. As I walked from the street back to the farm, I first noticed the ducks and Mike busy planting. As I looked around, it took me back in time to a place I never really knew. A farm that sustained the family with almost everything it needed to eat. Rows of well cultivated planting beds surrounded by fruit trees and large areas for chickens and ducks.  Everything and everyone seemed happy.  It was serene.
The Homestead:  Mike and his wife moved to this location about 5 years ago, wanting to have more land for their garden.  The original homestead sits on close to an acre, and came with a few fruit trees and grapes. Then, Mike started planting vegetables and added berries, more fruit trees, chickens and ducks. The goal was to provide for his family – to create a family homestead.
Natural Fun: Plus, Mike likes it. Although he works full time, his passion is his farm. He works the farm in the morning before he heads off to work as a machine grinder.  His only complaint is that he doesn't get to see much of his family. He follows organic practices on his farm. As he told me, he spreads a lot of manure and other natural products to fertilize his land.  He uses no sprays.  The chickens and ducks roam an area bordering the farm in the summer and spring, but have shelter to protect them from their natural predators in the area.
More Than a Homestead? Mike didn't intend for the farm to become his livelihood when he started.  But he started volunteering for Stacey Givens at The Side Yard Farm.. She convinced him to turn his homestead into a business. Ultimately, his goal is to eventually get more land and work full-time on the farm.  He is just now expanding to a parcel he has leased in the Cully neighorhood, not too far from the Side Yard Farm.
Raising a Farmer:  Mike explained that he comes from a long line of farmers. His grandfather had a homestead in Rhode Island. As a child, Mike went to an alternative school in Maine that he likened to A Little House on the Prairie. The classes were small and of mixed grades. The school had an organic garden.  They had classes in composting and treks to the salt marshes. The experience obviously made a large impact. Mike now has his own homestead like his grandfather, or even the Ingalls, although of a style relevant to the urban environment he inhabits.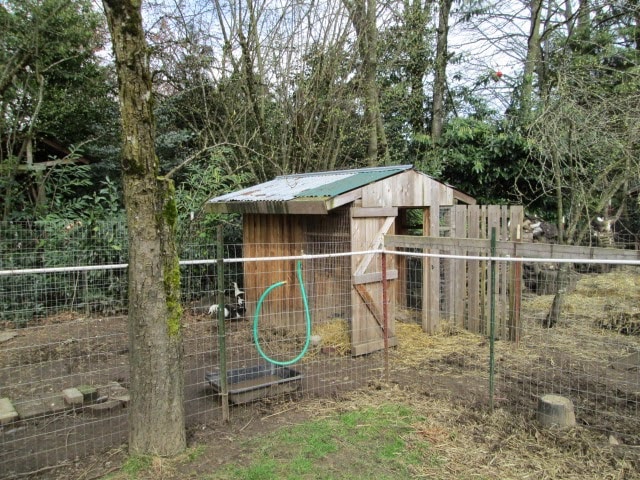 The Tour: Mike took me on a tour of the farm, and I spotted an old red truck in one of the barns. Mike pointed out what was already planted and growing, like grapes, raspberries, blue berries, greens and sprouting peas. He has kiwis, prunes, apples and edible flowers. There are resident hummingbirds, and bees to pollinate the crops.  Mike showed where the next plantings will go, and I even tasted the bloom from tops of the latest harvest of greens. Mike said these were the original broccoli, but much sweeter.  He was right. Yum!
Homesteader:  He showed me the greenhouse, where he was growing heirloom beets that were long and tubular like carrots. There was also an assortment of other vegetables coming to life. We then went to the "shop," and we visited the baby ducklings. He remarked he needed to build them a bigger area because they were beginning to escape but weren't yet ready to mix with the other birds. Mike also does the construction work for the farm. He was proving to be a true homesteader, who loves all the life living on his farm.
Farmer Chef:  It seems farming and cooking also go together. Mike is an aspiring chef.  He and his wife showed me the outdoor fireplace and cook area they have plans to rebuild and remodel, including the addition of an outdoor pizza oven. Their plan is to host farm to plate dinners with the bounty from their homestead.
Enjoy the Bounty: You can also share in the bounty.  Red Truck Homestead has just started a CSA this season.  Anyone who buys in will receive 27 weeks of fresh produce from the farm.  You can also find Red Truck Homestead at St. Johns Farmers Market every week starting May 31. Check his website for other locations and the grow list. They also sell their farm fresh eggs.  In fact, I picked up a couple of dozen while I was there, and I will be back for more! These are some of the tastiest eggs I've had in awhile.
The Beauty and the Bounty: I have to admit, getting the tour of the farm was a special treat. There's something rejuvenating and natural to be out on a farm where so much is growing and thriving, even for those of us without green thumbs.  It is amazing to see nature in action, with all the moving parts, and how beautiful and life sustaining it can be, even in the middle of a city like Portland. It is also beautiful to see the farmer and his family who are joyfully working the land and cultivating the bounty it provides.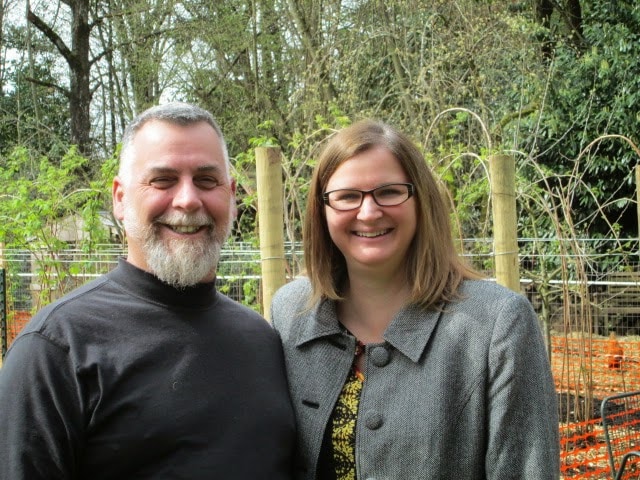 Learn more about Red Truck Homestead at www.redtruckhomestead.com, or follow them on Facebook.
Take a trip out to St. Johns Farmers market and buy some of the bounty.  It will be worth the trip.
Thank you Mike and Blynda for welcoming me to your homestead.