Ginger Abernethy loves to design and to transform raw material into three dimensional beauty and style. Ginger is artist, designer, and master seamstress, all bundled into one. She has the perfect combination of talent and passion to fashion your style and bring it to life.
The Artisan Designer:  It's hard to categorize Ginger Abernethy as an interior designer, seamstress or stager. Yes, she does all three, but it seems like so much more. From the moment I walked into her studio, I sensed she was more like an artisan from a time long passed. It was kind of like walking into an artists studio, where the art you commission is designed and crafted for you to use or to wear. Or even like the dress maker shop, where you custom order a garment designed just for you.
Creating Style from Textiles and in Space: But this still doesn't accurately describe all Ginger does. She loves working with textiles, creating patterns and form, and designing beautiful style. She is also a masterful and meticulous seamstress, paying attention to the minutia in the seams and finishes.  Her work is all unique, either custom made for her clients, or designed as a one-of-a-kind piece or garment. But she also works with spaces. She designs the flow and feel for a room or space, and then fashions and sews the pieces to go into that space.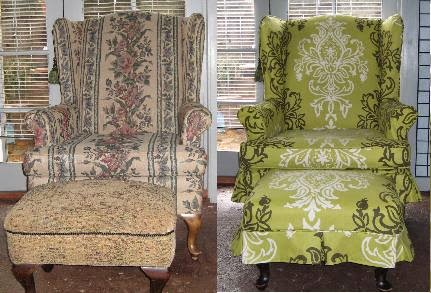 For Example :  For example, Ginger designs custom slip covers.  She sees the piece of furniture as her client, and she will create a slip cover masterfully fit to its form and with a style to bring out its beauty.  (In fact, Ginger notes furniture can be great clients. They never fuss over fittings and remain perfectly still).  Or, she sews up draperies, pillow casings, bedding and other decor to complete the style of a space.
The Natural Seamstress.  Ginger can't remember a time when she didn't like to sew. Taught by her grandmother at a young age, Ginger was already sewing for other people by age 10. She was getting paid to sew by the time she was 13! She made all her own clothing.  In fact, one of her deepest passions remains to design and sew custom clothing or costumes.
Created for Style:  Ginger explains that her brain easily interprets three-dimensional shapes and objects that are upside down. She has a unique talent for being able to see something, and then design a pattern in two-dimensional form to create the three dimensional object. Ginger is also a little bit old-school.  She designs the old-fashioned way with rulers, French curves and straight edges. Ginger remarks these methods are the tried and true artisan ways of designing and sewing.
Affordable Luxury:  Ginger also believes in affordable luxury. She likes to get the most bang for the buck. Accordingly, her goal is to create and design quality products for not a lot of money.  For example, her custom slip covers are less expensive than reupholstering.  She also re-purposes. Hand crafted hand bags made from old silk neck ties were hanging in the studio.
Ginger's Smarts: Ginger also has the credentials to back up her talent.  Ginger has a bachelor of science in textiles from Michigan State.  She also spent two years studying at a design school for apparel, as well as studied some interior design.  She has a great sense for the aesthetic.
Years of Experience:  Before starting her own business, Ginger worked as retail manager for a non profit manufacturing company. In fact, she worked for the company that made the uniforms for Desert Storm. Ginger says this was a great experience because she learned a lot about large scale manufacturing.  She then ventured into software sales. Ginger eventually opened her own business doing what she loves.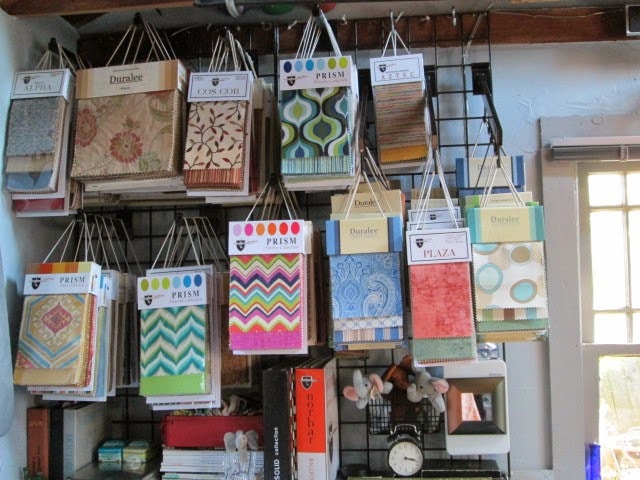 All Across the USA:  Originally from the Midwest, Ginger has bounced across the U.S. until she reached Portland around 2006. She visited Portland and loved it.  She kept moving west until she reached Portland. Ginger actually loves the weather here and doesn't mind the rain!  Ginger reports that her next move will be to Europe.
For the Love of Design: Ginger loves owning her own business. Although it can be a hard life, it's a good life. She has the freedom to do what she loves and to approach her craft like a true artisan.  While she faces challenges, like being discovered, the benefits clearly outweigh them. In fact, when I asked what she does for fun, Ginger says she works for fun!  She also finds time to garden and play the piano.
Whether you need to freshen up a room, are craving unique, custom apparel or accessories, or just want help with space and staging, Ginger Abernethy Designs is your one-stop design studio. She carries a selection of fabrics in her studio and can truly be there for you through the entire process and create something that is beautiful,unique and your style.
Visit Ginger's website:  www.gingerabernethy.com.
You can shop and explore her wonderful world of style and design. She'd love to hear from you!