There's no doubt about it. Natalie Barela of New Refined Basics is very talented. She designs and creates contemporary, minimalist handcrafted jewelry that you'll want to wear every day. In fact, that's her goal: to create beautiful, basic jewelry that works easily into any wardrobe, yet will last and be worn for many years.
Creating Simple Beauty: Natalie is an artist in her soul. Drawn to artistic endeavors throughout life, she just can't stop creating. It seems she's not only a talented jewelry designer, but also a gifted seamstress/designer and photographer. While talking with her, I couldn't help but notice a common thread. She thrives on creating objects of simple beauty, with the inherent ability to just make the ideas come to life.
Expressions: Her jewelry starts with an idea and probably a drawing. Natalie then experiments with the idea, bending the shapes with wire and inexpensive material to get the design just right. I get the sense the ideas are just naturally there, in her spirit, and she currently works with metals and stones to express those ideas in tangible form.
Making Ideas Work: Before designing jewelry, Natalie says she also interned with a fashion designer and collaborated with a friend on a lingerie line. She learned a lot, she remarked, but didn't feel she was destined for for the fashion world. She quietly added that while designing and sewing fashion, she just kind of made the ideas work.
Humility: Natalie is like that. She is very humble and unassuming about her art and work. It's just what she likes to do, what she knows, and what she practices. But I think it's more than that. I think it's a special talent that lives inside her and wants to be heard. Natalie is about creating and expressing herself through her work.
I couldn't help but notice a common thread. She thrives on creating objects of simple beauty, with the inherent ability to just make the ideas come to life.
Studio Time: While in college, she studied fine arts at first. She always loved her time in the studio and her classes (including a small metals class), but ended up getting her degree in liberal studies instead. She just believed time spent in the studio was better spent creating for herself than for a degree.

The Right Thing To Do: Natalie is designing jewelry because it seems like the right thing to do with her life. The pragmatic side of her believes jewelry design is a viable path to supporting herself. In fact, she can't imagine working anyway else. Her professional life has consisted of working for small businesses or for herself. At one point she realized she'd be happier creating art for herself instead of creating work for someone else.
The Jewelry: Natalie works a lot with sterling silver, copper and brass. She is also learning how to cut stones and work with different kinds of rocks, and is weaving them into her jewelry designs. She is busy working on a new collection, and I can't wait to see it.  Her jewelry is at once unique, clean and stunning, but also perfect for every day wear. These are pieces anyone is proud to wear for years.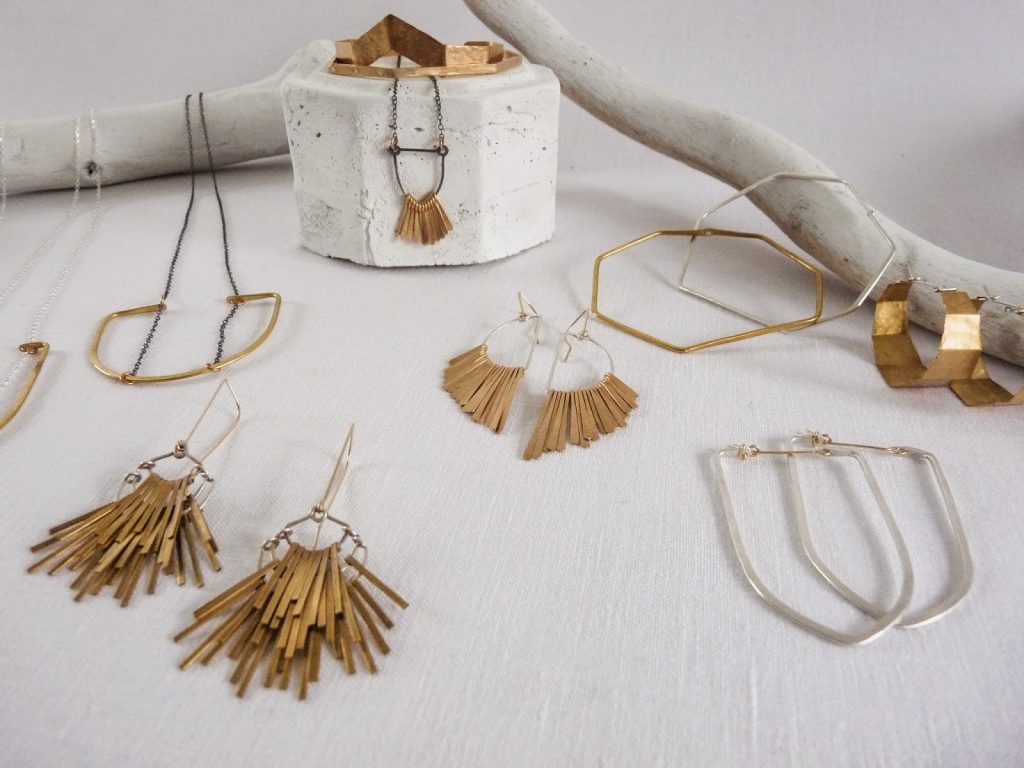 Designed to Last: Not wanting to contribute to hyper-consumerism or the disposable economy, Natalie hopes to design jewelry that lasts for years and is fashionable for many seasons. Her designs are popular. Her jewelry collections are available locally in retail shops on SE Hawthorne (Communion), The Pearl District (Tender Loving Empire) and N. Mississippi (Pistils). She even supplies jewelry to a store in Los Angeles, and there's always her shop on Etsy.
The Heart of Natalie: When I asked Natalie what she likes to do for fun, she replied, "go to work." That explains a lot, really. Although she enjoys outdoor adventures and traveling, I think her heart is actually at work in her studio. She says she can sometimes get distracted by the possibility of new adventures and new curiosities. But I think she'll always return to her studio. It's not just what she does – it's who she is.
Visit the website, New Refined Basics.
You can also follow Natalie on Instagram here:
https://instagram.com/new_refined_basics
Featured image source: Natalie Barela