Andrea Anderson launched Wyatt Rose to solve a problem. She was looking for headgear for her young children, but nothing on the market seemed right. Andrea took matters into her own hands and began to design quality, functional and stylish children's head wear. Wyatt Rose sells the headgear it designs as well as other quality apparel for children.
Design with Heart
Wyatt Rose started in Andrea's living room. Andrea tells me she sat on her couch in the evenings and started designing beanies and hats for children. Using Illustrator software, she drew hats that would fit children with stylish designs. She envisioned warm. knitted hats from quality, natural and comfortable fibers, such as alpaca and lambswool. Andrea also wanted a hat for her daughter that wasn't pink! So, Andrea designed with a large color palette.
Andrea was no stranger to design and apparel. She worked in the design and apparel industry for many yearsfor various apparel lines, such as Columbia Sportswear and AmerSports. She soon found herself in management. She missed the creative side of the industry, she says, and was getting tired of all the traveling. She had young children at home and wanted to spend more time with them. I think she was finding herself again while designing those hats, and felt called to bring them to market.
Launch With Style
Andrea decided to take a risk and launch a start-up. She named it Wyatt Rose after her children. She reached out to connections she had in the industry and found a quality knitting manufacturer to create a few prototypes. She took her prototypes to a trade show in New York City, where buyers could see her hats. It seems she found a niche waiting to be filled. Her hats are now featured in shops across the country, including some shops in Portland.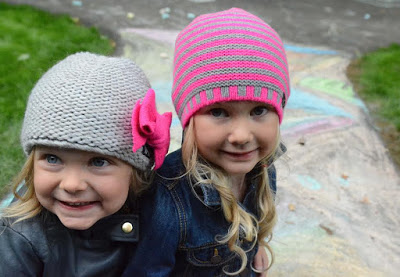 I'm not surprised her hats are popular. Wyatt Rose offers 12 styles of hats and beanies. They are warm and versatile, knit from natural fibers. They come in different sizes for infants to young adults. The hats have beautiful designs in a variety of colors. And yes, they're super stylish. Wyatt Rose has hats kids want to wear and hats you'll want your kids to wear.
Andrea also built a website to show case her hats, which launched in August 2016. I'm not surprised that Andrea also had another great idea. She wanted to feature apparel from other talented artisans from around the world on her site. Andrea started searching for like-minded artisans on-line and just reached out to the ones who inspired her. Andrea told me about a woman from Australia who makes beautiful bows. Now, these bows are for sale on Wyatt Rose's website from a featured artisan.
The Magic of Wyatt Rose
Andrea continues to reach out to artisans, such as a mom in Taiwan who makes rain ponchos. I think this is part of Andrea's magic formula. She is tapping into an often ignored market for quality, one-of-a-kind products. She is answering a desire for apparel that is not one-size-fits-all and reflects a personal style. But she is also sharing the talents of other individuals from around the world, and in a sense is building community. When we wear or buy something from this community, we are part of something bigger.
Like most start-ups, Wyatt Rose is mostly a hands-on business. Not only does Andrea do all the design work, she also does all the marketing, packaging and shipping. Andrea admits she is still learning the marketing side of the business and how to manage social media and advertising. But it's not holding her back. Wyatt Rose will launch a second season of designs, and Andrea will be back at the trade show in New York City. Andrea is also working on designs for new product lines for children and babies.
I always feel privileged for some reason when I meet a native from the Portland area. Andrea grew up in Milwaukie. She went to college at OSU. She and her family love the beach, the mountains and skiing. Andrea to me represents the spirit of what I love so much about this area. She has that spirit of love for natural beauty, but also a spirit of creativity and being true to herself. It is that spirit that created the Portland I now love so much.
 Blossoming Wyatt Rose
As I was talking with Andrea, listening to her story, and watching her tell it, I got chills. I felt like I was getting a first hand look at the beginning of something big. I couldn't help thinking about how many businesses start in a garage or a living room and blossom into something bigger. These businesses blossom not only because of a great idea, but also because of the person behind the idea. Andrea is full of enthusiasm and energy for Wyatt Rose – it's like it's an extension of herself. I sense Andrea is one of those people who not only will grow her business, but she'll grow it in such a way that it stays true to herself and her mission.
Learn more about Wyatt Rose. Go to the website at www.wyattrose.net. Follow Wyatt Rose on Facebook and Instagram (@wyattrosekids).