Serra Hadsell of SerraVision Photography is a story teller. Serra takes lifestyle photos that capture key moments of your life, and then she transforms the photos into a visual story book of memories for you to cherish. I think this is a revolutionary approach to photography. How many of us have stacks of forgotten old snapshots or photo albums we never open? What about that collection of photos on Facebook or Flickr? Serra takes these photos and puts them in context, beautifully bound together in a book we'll open over and over again.
Relive Your Memories
Serra says her goal is for her clients to open the book, or look at their photos, and feel like they're experiencing the life event again. Serra believes the secret to achieving this experience is to take photos of people going about their normal business and living their lives. Photos of ourselves in awkward poses or in locations we don't know are less likely to speak to us and help us remember our lives. Instead, Serra becomes a type of natural observer to your life's activities during a photo session. It's like she's recording your memories visually through the photos she takes.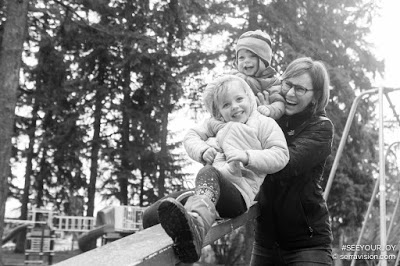 Serra spends a lot of time with her clients, in their own comfortable milieu. For example, her first appointment with you might last 2 – 3 hours at your home. This way, you can get to know each other. You will talk together, and Serra will answer your questions. She will create an environment in which you can relax together. Once that occurs, you will be excited for your upcoming photo shoot.
Serra likes to have the photo shoot at a location that means something to you. Serra might go with you and your children to the park where they usually play, for example. Or, she might join you for your weekly breakfast out at your favorite diner. I could even imagine Serra doing a photo shoot of me while I practice agility with my dog. She would be able to capture the story of me working with my dog from a different perspective and bring it to life through the pictures she takes. I know I would cherish that story.
Your Photo Story
Serra began putting her photos into books in 2012 so she could integrate the story with the pictures. After your photo session, Serra will group the photos by activity to see how they work together to tell a story. Then, she'll select 25 – 30 photos for a proposed book layout. Serra explains that we can only process about one to two pictures at a time. So, by organizing the photos in this way, we actually enjoy the photos more.
Serra shares the proposed book layout with you, giving you the opportunity to make the book your own. You can add narration, rearrange photos or select different photos. Of course, Serra can help you with the written narration if that's not your idea of fun. Ultimately, you will receive a very personalized book that tells your story through your pictures. Imagine a book of each of your child's birthdays, or maybe a book of your move-in day to your new home.
Serra believes approaching photography through story telling helps us live our lives more fully. The pictures and the photo sessions together help us slow down from the busyness and stress of our daily lives. We stop and have fun – spend time with someone else just being ourselves and playing, and then we have the opportunity to experience those memories again when we look at the photo story book. Serra adds that these photo stories also teach kids the value of good memories and how they connect us to our past and to ourselves. I think Serra is also teaching adults the same lesson.
Serra's Vision
Serra started practicing her photographic art as a young adult working at a portrait studio in a mall. She enjoyed making things and being artsy. She developed a knack for working with people and helping them warm up to the camera, even in a quick session at a studio. She earned a liberal arts degree from Evergreen, with an emphasis in visual media art. She later earned a Master of Arts in documentary video in Boston. Her thesis, which she completed in 2004-2005, focused on the impact of video on the internet and how it would change social media.
Serra got started taking lifestyle photos by using her garage as a studio. She eventually started going into people's homes to create a more natural environment for the photo shoot. She liked the results. Serra says she developed her art and skills a lot in those early years while she was playing with the camera and learning what she could do. But I think an artist is always learning and growing and stretching his or her talents. Serra is no exception.
Connecting with Life
 Photography is an integral part of Serra and how she expresses her life. She's created a series of books of her own children, capturing their stories every 6 months with a new photo shoot. She is using the way she practices her photographic art to affirm her values by working with natural light and processing her photos digitally to keep her impact on the environment as light as possible. I have a feeling Serra's photographic art will continue to grow and to morph, and that it will continue to enrich the lives of the people it touches.
Learn more about Serra at www.serravision.com. You can also follow her on Facebook and Instagram.